Selling Audiobooks, Keeping All the Profits & Building a Writing Career
If you're an audiobook author, then this guide will change your writing career. There is an audiobook distributor out there that allows you to keep 100% of your sales proceeds, build an in-house list of subscribers with or without your own website, communicate with your audience, and a whole lot more.
Why does this excite me?
As an author who publishes audiobooks, it has become quite apparent that I need a better way to sell them. If you're an author who puts your money into producing audiobooks, then you know what I'm talking about.
My experience with Audible and other audiobook distributors has been similar to having my product forced into a hurtful multi-year contract or skirted to a ton of different retail platforms where my profits are consumed by those entities.
Even worse, as I spend money marketing my audiobooks, I have to keep a close eye on cost. I'm doing all the work, funding the entire audiobook production, and spending money marketing, all for the audiobook distributors to leave me with less than 50% of the audiobook sales proceeds.
Frustrated yet?
After discovering this audiobook platform, I'll never put any of my audiobooks on Audible or any other audiobook distributor again. Plus, I've made it my mission to tell as many other authors about it so they can realize the same potential of turning their writing into a full-time career.
Let me introduce you to an alternative to Audible and list the reasons why authors and their fans will LOVE it!
Before we get too far along, there are affiliate links in this article, which means I may earn a small commission if you make a purchase after clicking it. It doesn't increase the cost of your purchase, but it helps me cover the costs of the website. Now with that out of the way, let's get to it!
Soundwise promotes itself as the "Audible that authors have always wanted" and it's true! It's a platform where an author can sell audiobooks but also build a writing career.
Why Do I Love Soundwise as an Author?
Selling Audiobooks & Keep All the Profits
Soundwise has several plans an author can choose from, but none of them take a percentage of the profits, compared to other audiobook distributors who'll take in many cases at least 50%. That's right, the author keeps all the profits with the exception of the Stripe fee that occurs with each transaction, which is 2.9% of the purchase price + 30 cents.
That helps authors tremendously.
Writing a quality book is expensive and so are good audiobook narrators. The entire writing, editing, and audiobook creation process is a long endeavor that requires both time and money. As an author, I want to create a great book, and I want raving fans who love my work, but if I'm handing over most of the profits to someone else, then it makes it hard to do all of that.
Audible gives some leverage to authors who can't afford the cost to publish an audiobook since they provide split royalty deals and no-money-down narrations, but in the end, that freebie up front is much more costly in the long run, especially if you have a bestseller on your hands.
Soundwise doesn't charge any type of fee to authors, no matter what plan they choose. They charge for the use of their platform and that's it. Check out my comparison of audiobook royalties broken down by top distributors and you'll see the financial impact of using Soundwise over other audiobook distributors.
If an author can sell at least 2 or 3 audiobooks a month, they'll cover the monthly cost of the lower-tier plans and the rest of the sales become pure profit.
Authors are in a much better spot, keeping roughly 98% of every single sale compared to roughly 40% from the big distributors.
What author in their right mind wouldn't put all of their audiobooks on Soundwise?
High-Level Customer Interaction
Most audiobook distributors only notify you when a sale takes place on their platform (and sometimes several days after the purchase, but I digress).
They don't tell you who purchased your audiobook. Basically, the author is left with question marks.
Instead of giving you that information, some audiobook distributors rely on authors to continually spend more money on their ad platform to garner sales. Authors work around this to some degree with e-books. If a reader likes your work, then the author can leave an invitation to join their mailing list at the end of the book. This is a common practice, but with audio, it doesn't work out so well.
This barrier doesn't exist with Soundwise. In fact, they decimate it. All customers become a part of the author's Soundwise subscriber list once they purchase your audiobook.
The author can message their entire subscriber list on the platform whenever they want and the listener will be notified by email that they have a message from the author waiting for them on Soundwise.
Think about how you could use this to your advantage. You could message them when you have a new audiobook release. Or when you put an audiobook on sale. Or if you release a new bundle. The possibilities to further increase your sales are in your hands.
Furthermore, if a subscriber leaves a review, the author can also respond in the same forum. In other words, they can have a conversation and build community.
What if the author wants to add these subscribers to their mailing list? No problem. With two clicks, you can export the list manually and they're ready for upload to your mailing list. Some Soundwise plans allow for Zapier integrations where you can add new subscribers to your author email list automatically.
As a side note, I don't use the Zapier integration or the manual list export because I don't know if this violates GDRP laws or not. If they purchase my audiobook on the Soundwise platform, it doesn't seem right to me that I can export them to my own mailing list automatically. However, the easy workaround is to message all of your subscribers about your mailing list and include the sign-up link. Those that want to be a part of your mailing list will join up.
The bottom line. An author must have the ability to build a fan base. Without one, they are doomed. Soundwise understands this and supports the author in this endeavor.
Immediate Payments
Every time a purchase is made on Soundwise, the funds are processed to your preferred account through Stripe.
You'll also receive an email stating that a purchase was made and will include the amount of the transaction. Need help setting up your Stripe payment? We've got you covered.
Reviews & 5 Star Rating System
Just like other audiobook platforms, Soundwise has a review system where customers can leave reviews and a star rating.
Furthermore, these automatically populate for you on your landing page, if you desire. Don't want to display the reviews of your audiobook? No problem. The author can disable reviews too. I'm not sure why you would, but the option is there.
Unlike Amazon, Authors Have Exclusive Landing Pages
Soundwise gives authors their own landing page for their audiobooks. You can customize it too and the setup is so easy. You can also link back to your own website if you have one.
Authors have a place to add an audiobook cover and a short hook at the top of the landing page. Furthermore, you can place the full audiobook description below that, but why stop there?
You could also use the book description area to add other reviews that you might have garnered through other audiobook distributors. The book description space is a full-text editor that allows you to add emojis, different fonts, and so much more. Check out my Soundwise walkthrough, or run into it later in this series.
In the host section, you can also add the narrator's bio and your own bio if you choose.
One of the best items on your landing page is the fact that your other product offerings will be displayed at the bottom of it, so if you have other audiobooks for sale through Soundwise, they're only a click away for your customers.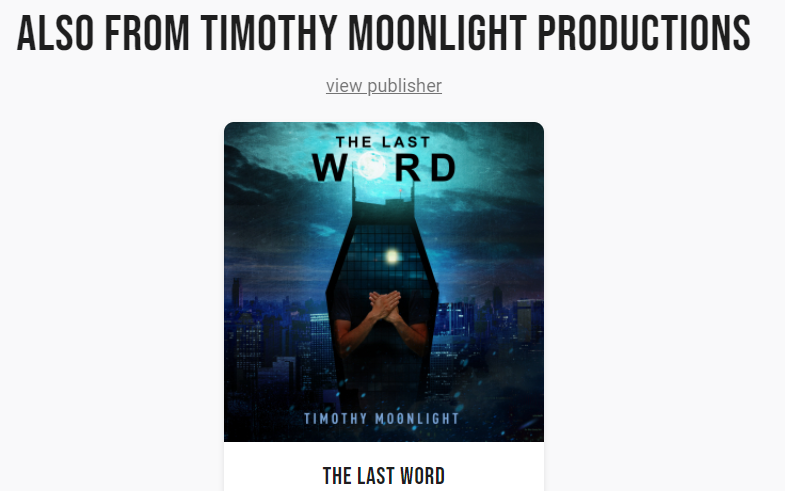 Set Your Own Price for Audiobooks & Create Your Own Discounts
As some other audiobook distributors allow you to do, you can set your own prices for your audiobooks through Soundwise.
However, you can also create discounts or make your paid items free for some listeners (I'm looking at you, review team)! Creating discounts is as easy as setting up a coupon code and selecting an expiration date for it.

You can also change the price of your audiobook any time you want. Nothing is set in stone and you have complete freedom to modify discounts at any time. You can even drive traffic to the discounted landing page. This way the person who lands there won't have to enter the code to receive the discount. It's automatically applied at checkout!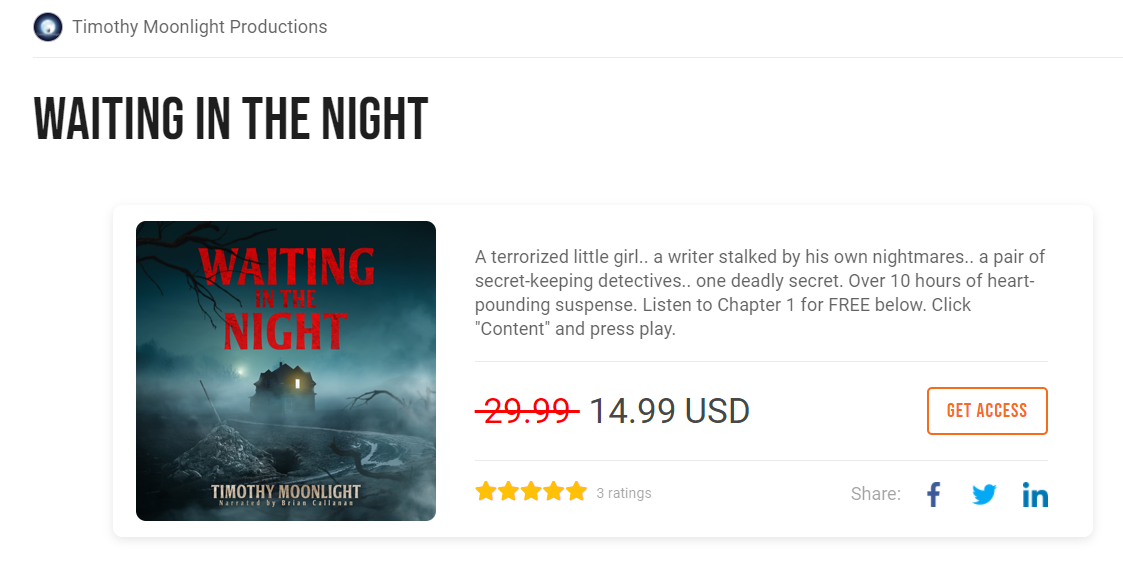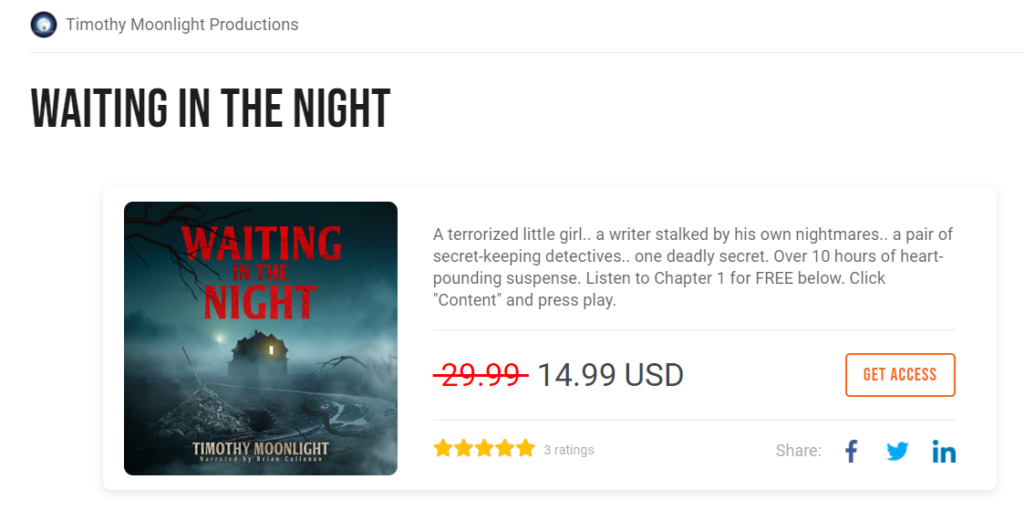 Do you have a free audiobook that leads into a series? Then make it free and reap the rewards as it leads to next-in-series purchases.
Audiobook Preview & Soundwave Files
Just like with other audiobook distributors, you can choose to have the first chapter or more of your audiobook free for everyone. One of the main ways listeners decide if they want to purchase an audiobook is by listening to the first chapter and Soundwise doesn't leave the author community hanging.
Also, each chapter you upload becomes its own landing page, which can be helpful if you don't have your own website where you can drive traffic. This allows you to explicitly send people who are interested in your audiobook to a page dedicated to listening to a free chapter. From there, they are only one click away from purchasing.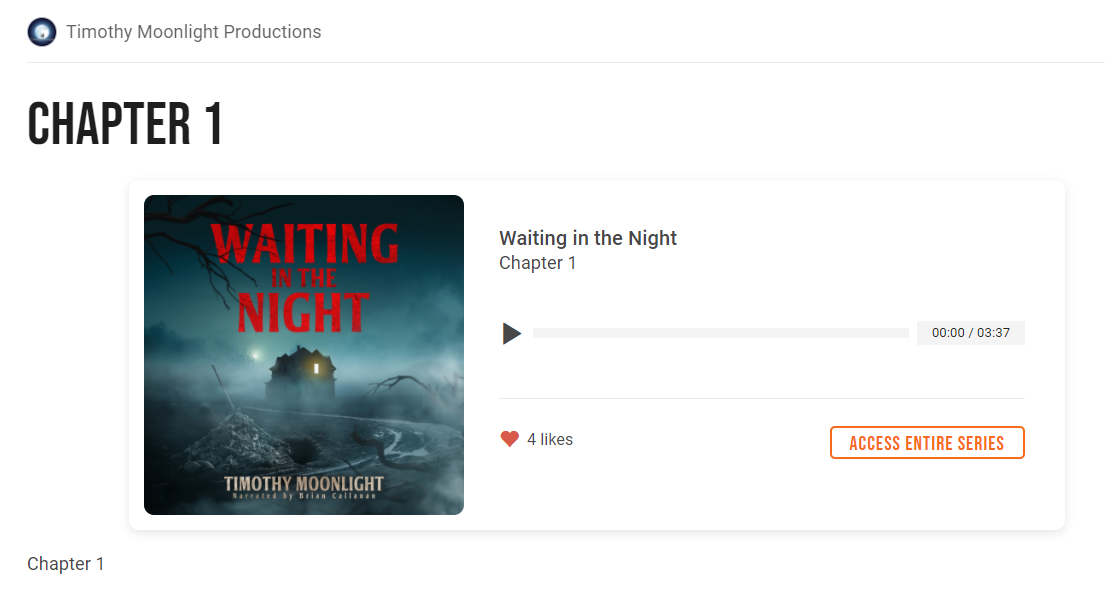 Authors have a number of choices to where they can drive traffic:
to the main Soundwise audiobook landing page
to a Soundwise page that highlights a free chapter
to your own website landing page and allow Soundwise to facilitate the purchase
Soundwise also provides a free Soundwave file that you can use in advertising your audiobook. This file will take one of your chapters and convert it to a video file that has your cover in the background with the narrator's voice throbbing along a soundwave.
It's a sleek concept that you can use in your marketing efforts, like Facebook Video ads. As a paying member, your Soundwave audio file can be up to an hour long.
Here's my soundwave file that highlights the first chapter of my suspense novel, Waiting in the Night.
Record Your Audiobook Within the Platform
I cringe at the thought of recording my own audiobook, but if you have the voice for it, Soundwise allows you to record your audiobook within the platform.
I've never used this feature and wonder about its effectiveness. You will probably have to export the audio file to clean it up and then upload the revised file again. And then there is the question of recording quality.
There are audio tools such as Audacity or BounceCast that could help you clean up an audio file, but I leave all of this to professional narrators. The audiobook editing process alone takes a considerable amount of time and Audacity has a steep learning curve.
Aside from all the question marks that surround this topic, the ability to record your own audiobook is still a neat addition to the Soundwise platform.
Sell Audiobooks: Create Bundles, Subscriptions, Rentals & One-Time Purchases
Authors who have an extensive library or an audiobook series can take advantage of bundling to provide an all-in-one purchase option for fans. This can be a game changer for authors to maximize their profits and the setup is easy. Check out my creating an audiobook walkthrough for how to set these up on Soundwise.
If you want to offer a subscription service to your audience you can do this as well. Let's say you have 12 audiobooks and you want to offer one a month for a fixed price to your fans. You can set up a subscription to your library and garner recurring revenue throughout the year. But you don't have to stick with a monthly subscription model. You can choose the length of your subscription from monthly, quarterly, or annually.
Of course, for authors who only have one or a few audiobooks currently, one-time purchases are a third option. Or if you want to provide your audiobooks as rentals, you can do that too.
No matter how you sell your audiobook library, Soundwise empowers authors to create different revenue strategies to maximize profits.
Provide Bonus Content
Another interesting Soundwise perk is the ability to add bonus content for your listeners. You can upload pdfs and other documents to your audiobook that subscribers can access.
Have a cool map of your fantasy land that you want to share? Go for it. Want to leave character sketches of certain heroes or villains? Knock yourself out.
Authors will find creative ways to add value to their subscribers. Better yet, you can list these in the benefits of the landing page. I added a 30-minute audio commentary about my suspense audiobook, Waiting in the Night, and listed that as a benefit on the landing page.


No Contracts
Authors can use Soundwise on a month-to-month basis. There are no long-term contracts. If you simply wanted to test the platform for a single month, you can do so very cheaply.
With all the benefits it provides though, I don't see myself ever leaving. As with most service providers, you can save money with a yearly subscription.
Authors Don't Compete with Other Authors on Their Landing Pages
On other audio platforms, authors continue to lose sales on their own landing pages because of something else that catches the customer's eye. This is intrusive to an author's space and a detriment to their success.
An author's landing page on Soundwise is solely their own. This means they won't have to compete with other authors for attention. Only their content is on their sales page.
Some may say this isn't a huge problem on other retail platforms and to some extent, I agree. If an author is doing their job correctly by having a stunning cover, an enticing blurb, and a well-crafted engaging opening chapter (not to mention the rest of the audiobook), then they shouldn't have much to worry about.
However, the other side of that coin is to create engagement on the platform, authors must spend marketing dollars driving traffic to that landing page. If an author spends money advertising to potential buyers, then shouldn't they be the only ones to benefit from the money they spend? It's a fair question.
Great Support & Library for Creating Audiobooks
Every time I've contacted support for help or suggested an idea, Soundwise replies in a timely manner and answers my questions.
They also have a great platform support library that is filled with documentation and screenshots detailing how to perform different tasks.
If you're an author wanting a great platform for your audiobooks then sign up for Soundwise.
Why Will Your Listeners Love It?
All of this information is wonderful for authors, but how will your listeners feel about Soundwise? Will they be able to access your audiobook library easily? How will it compare to other audiobook distributors? Read on to find out what Soundwise offers.
An Amazing App for Distribution – Available in App Store
Soundwise has taken the time to create a great app. I've had some fans tell me that they like its design better than other audiobook apps, which is encouraging. It's available on Android and iPhone through the Google Play Store.
Furthermore, when someone purchases your audiobook, they receive the link to download the app from the Google Play store for both iPhone and Android. And once they download the app, their purchases will be displayed in their listening library. Here is the template message that customers will receive when they purchase your audiobook. It can be customized by the author. The main thing to note is that it provides a link to download the Soundwise app, making it super simple to listen to their purchase.

As a side note, customers can also listen to audiobooks on their desktops too.
Simple, Secure Transactions
Payments through Soundwise are processed securely, just like any other retailer through desktop and mobile devices. Their payment processor is Stripe, one of the most well-known payment solutions for online transactions. Enough said.
Smooth Distribution Experience
Listeners will immediately receive their purchase on their account via the web or mobile app. They can also speed up or fast forward content and seamlessly pick up where they left off from one device to another. Customers can also listen online or download their purchase and listen offline.
Interact with the Author
If a listener wants to leave a comment, a review, or appreciation, they can do so for everyone to see. This is like an Amazon review, except for one caveat: the author can respond to the listener's comments!
A Great Community
Being able to communicate directly with the author of the audiobooks you love will definitely bring goosebumps to most listeners, but being a part of an avid community of fellow subscribers takes it to the next level.
The community can leave comments and likes on individual tracks if the author allows it. Furthermore, they can access any track pdf or other files throughout the audiobook.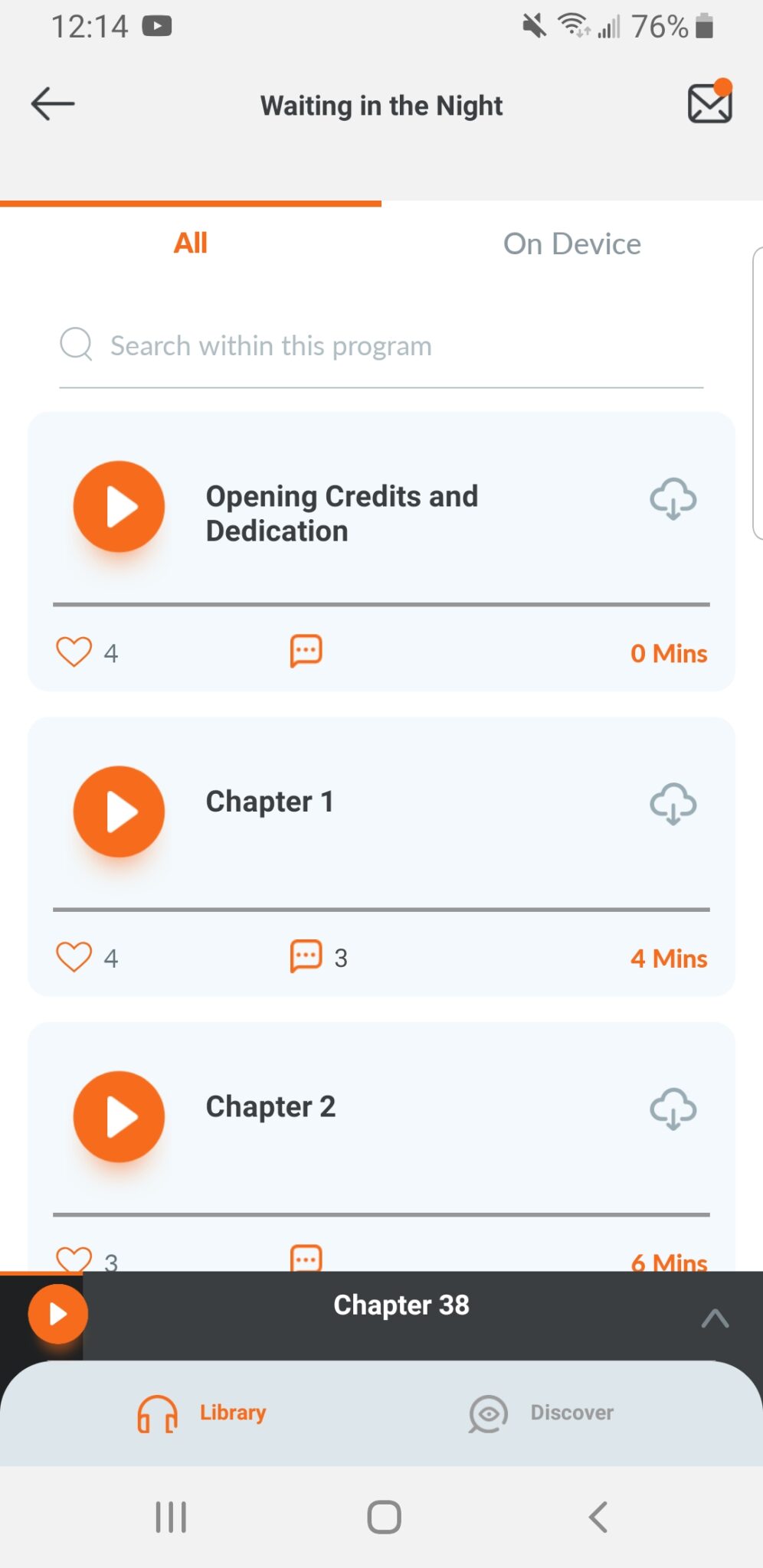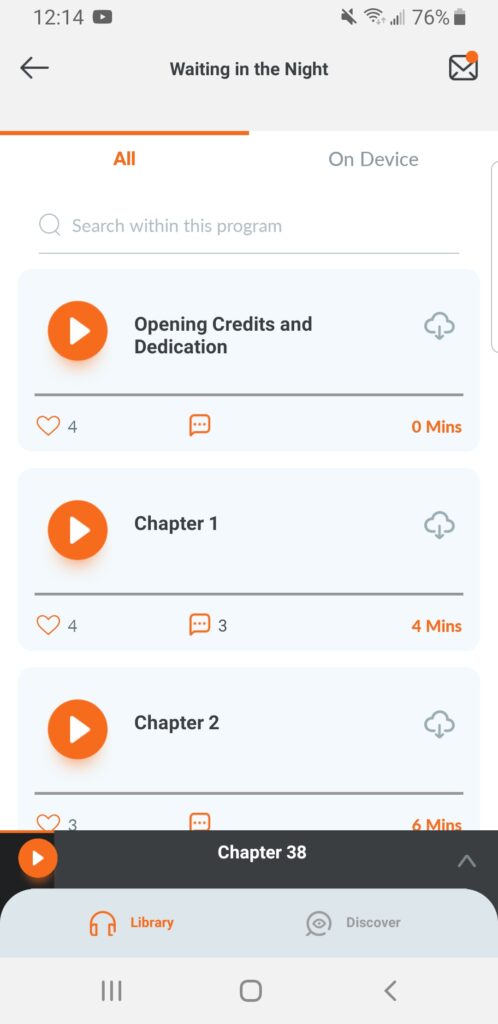 As you can see in the picture above, there are several chapters that have "likes" and chapter 1 also has some subscriber comments. Also, there is new mail waiting for subscribers of this audiobook from the author.
This adds another layer of author and audience involvement that other audiobook apps just don't have.
Free Samples
Like other audiobook distributors or any alternative to Audible, listeners can sample a portion of a paid product for free. This way they can hear the voice behind the audiobook and determine if it's to their liking. This decision is up to the content creator if they want to include a free chapter(s). I always include the first chapter free with mine.
Thanks for listening to me ramble about my audiobook adventures. It has definitely been an experience. For me, there isn't a better audiobook distributor than Soundwise.
Now, I have a real shot at making my dreams of becoming a full-time author a reality and so will many other authors who get away from the hamster wheel of standard audiobook distributors.
This has been PART 2 of the Ultimate Author's Guide to Selling Audiobooks for Max Profit. I hope it's been informative and helpful as you develop your writing career. This series includes:
Part 2: Selling Audiobooks, Keeping All the Profits & Building a Writing Career
Part 5: Setting Up Payments through Stripe COMING SOON!
Part 6: My Audiobook Strategy Playbook COMING SOON!